BOLALIUS: WESTERN LANDS OF SESAMAR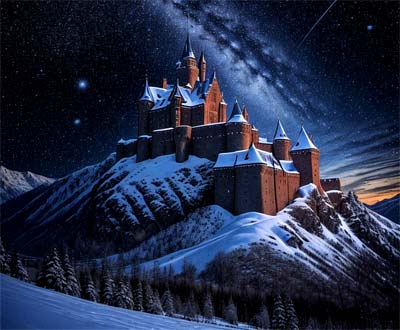 This is an edited image from Brady26 at tolas wiki.
The climb to this city is quite a journey through coffee fields at lower elevations and apple orchards higher still. It is best left for a horse or at least a mule. Yet, the trek leads high up the mountains, where the daytime air is crisp and the nighttime air is bitter cold. The people here are extremely bold and hardy.
Bolalius is a mountain city. It exists in a harsh climate, as winds from the north in combination with the high altitude create cold nights. However, Bolalius' main contribution to the area are its fighters. They are well-known for their ability, bravery, and outdoorsmanship.
This mountain city also serves as a signal to the region as it watches for giants to the north. While the city is located in the mountains, it has a series of posts to the west for that purpose. This means Bolalius also utilizes the homegrown talent from the area and trains rangers for these posts.
Members of this city must pull their weight, else be sent packing to Kornas. There is no room for slackers here.
It is known for its rangers, ore, Bolalian steel, animal husbandry, skins, woods, and precious metals. It grows apples, coffee, plants for tea, and many types of berries.
Notable Taverns/Bars/Inns: Bear Claw (T) and Burrralius! (I).
Bear Claw (T)
This tavern has several bear skins lining the walls. Black bear... Brown bear... There are claws, necklaces of teeth, and heads that decorate the place. This ode hangs on the entrance door:
The bear is a mighty beast
Come in and eat a feast
Beware the bear claw
Tis the natural law
The establishment is run by a former beaver trapper, named Jerus Pelthund, his wife Nelgti, and his son Forris.
Menu Specialties
Description
Cost
Bear Claw
This is a bold, superior ale made from local apples. Three of these will make the drinker feel he/she was smacked by a bear.
2s
Blue Stream
This red wine is made from blueberries. The taste is sweet and crisp.
1s
Black Stream
This red wine is made from blackberries and apples. It makes for a balanced taste that is a local favorite.
2s
Rabbit Stew
The Pelthunds breed cottontail rabbits for this purpose. They are cooked in a medley of vegetables, parsnips, and mushrooms. It'll put a spring in your step, so they say.
1s
Steak
Either deer, elk, or moose, it is prepared with a copious amount of garlic and a bit of vinegar and a loaded potato. It is tender, delicious, and filling.
2s
Burrralius! (I)
Despite the name, this inn is always toasty warm. Several fireplaces keep the place warmer than most places in Bolalius.
The spaces are simple, but cared for. The walls are lined with modest tapestries, which help insulate the place.
Description
Cost/Night
Standard
Rooms 1-10
These are small rooms. They contain a medium bed (sleeps two comfortably), chests with blankets, and a chamber pot.
1s/person
Deluxe
Rooms 1-6
These rooms are twice the size of the standard rooms. They are large enough to hold a large bed (sleeps three comfortably), a large chest with blankets, a chamber pot, and a desk with parchment, ink, and pen.
2s/person
Superior
Rooms 1-4
These rooms are larger than the deluxe rooms. There is a very large bed (sleeps four comfortably), a large chest with blankets, a chamber pot, and a desk with parchment, ink, and pen, and a fruit plate.
3s/person
This is the food and drink specialties that it offers.
Menu Specialties
Description
Cost
Golden Mead
This is a sweet honey mead with a dash of mace.
1s
Dark Ale
This ale has a hearty taste that is made with caraway.
1s
Whitefish
Local fish from streams are cleaned and fried with onions are carrots.
1s
Boar Sausage
Made with local herbs and spices and a blackberry wine, this is a local hearty favorite. Served with potato.
1s
Mutton
This is a large cut of seared meat that is slow-cooked therafter with onions, mushrooms, and local herbs and spices. It is a tender meal that is perfect after a tough job.
2s